The Next Decade
Our 10th Anniversary celebrations come to a close and we look forward to the next 10.
In July 2022, we launched our 10th-anniversary campaign to commemorate the last decade of supporting disadvantaged young people. Today, we're looking back on all of the wonderful things we did to celebrate and share what the future holds for Coach Core.
To start with, we announced the wonderful statistics that encapsulate the hard work of Coach Core. We shared that 726 apprentices had been involved with Coach Core and in just a year, that number has risen to 869! We're also proud to announce that we've had over 11,974,477 participants involved since Coach Core began.
10 years is a long time, so there's a lot of history. We released this special timeline that shows how Coach Core has developed and expanded over the 10 years: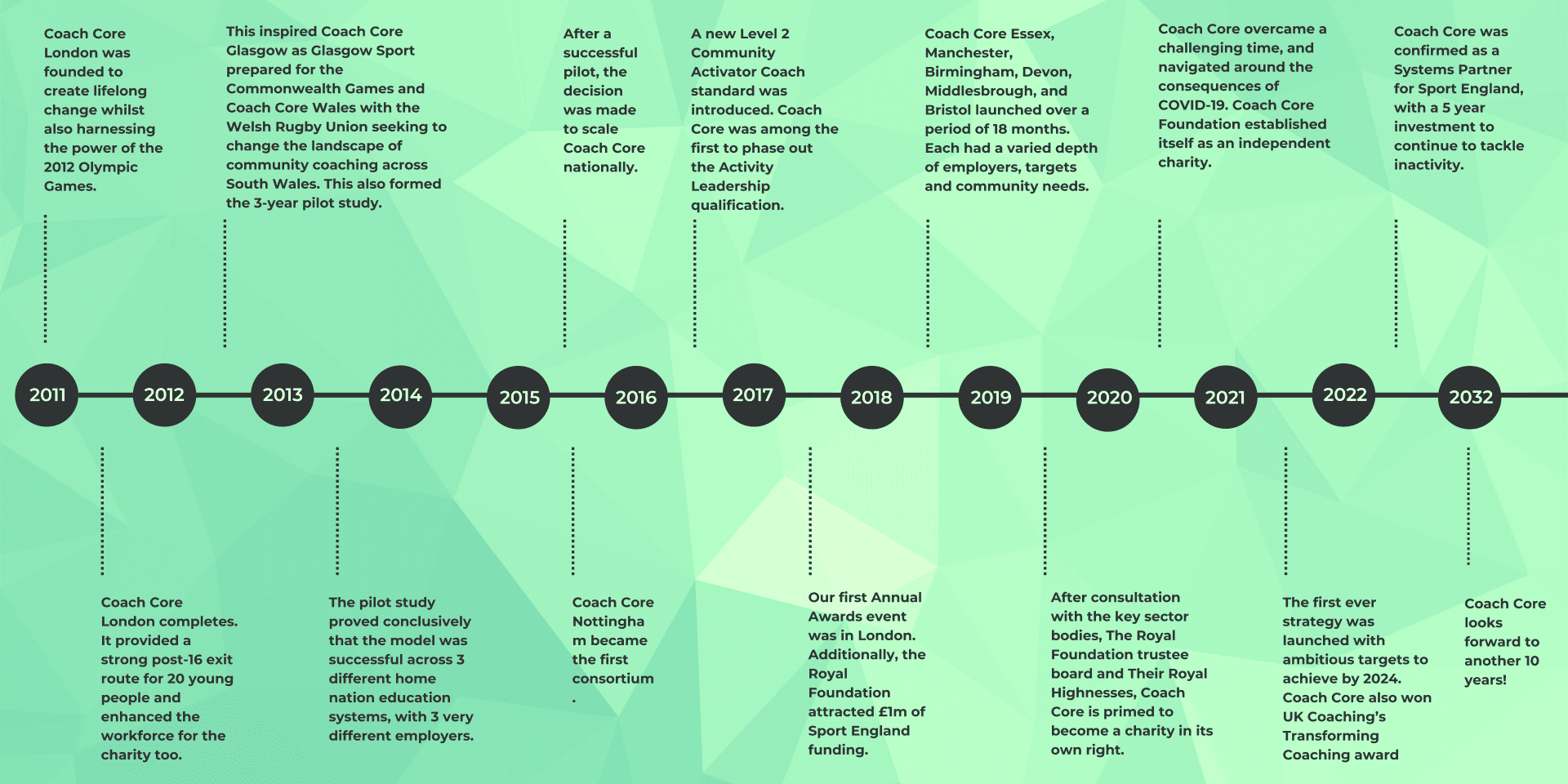 To celebrate the wonderful achievements of those involved in Coach Core over the years, we launched 'Graduate of the Month'. These 12 individuals all have incredible stories and carried on making a difference even after the programme had finished:
It isn't a party without music! We made a celebratory playlist, all Coach Core themed and with hits from 2012. Check it out below to travel back in time:

In October, we had a very special celebratory event in which VIPs, supporters and The Prince and Princess of Wales attended. We had the luxury of being in the Copper Box Arena, which was a fitting venue given our commitment to follow the legacy of the 2012 London Olympic and Paralympic Games.
The event had a huge turnout, with everyone taking part in games as coached by our apprentices and grads, and was a massive success.
"In a speech to mark the milestone, the prince spoke of the "incredible achievements" of the organisation which aims to train the next generation of sports coaches who will themselves inspire their communities.
In his speech William said: 'Sport has an incredible way of providing hope, connection and opportunity and when Coach Core was established ahead of the Olympic and Paralympic Games in 2012, it was designed to use that power to help change young people's lives."
Additionally, in February during National Apprentice Week, we had a specially themed Awards evening with the addition of a new category. The ceremony presented the first-ever list of Coach Core Champions – people who have made a significant contribution to Coach Core's mission over the last decade and without whom we wouldn't have achieved the successes we have so far:
Colin Evans
Eboni Usoro-Brown
Edward Wray
Gareth Norman
Heather Frankham
The Prince & Princess of Wales
Scott Hann
Sean Watson
Stephen Mitchell
Stuart Armstrong
These wonderful individuals warmly accepted their award and gave speeches talking about how much of a positive impact Coach Core has on communities.
Coach Core CEO Gary Laybourne reflected on the 10th Anniversary celebrations:
"As a coach since the age of 17, growing up in tough communities where sport is your main escape, I know first-hand the hugely positive effects of sport and mentorship on influencing a young person's life. I've had the privilege of launching and shaping Coach Core from the outset and I couldn't be prouder of the young people who have come through our programmes and gone on to make a difference in the next generation's lives."
Last but not least, after a total rebrand to share the positive news of being 10 years old, we hit socials with many videos and interviews.
To wrap up the celebrations, we created one last video where we caught up with Year 1 grads to talk about what Coach Core meant to them and how far they've come.
And with that, a full year of shouting about achievements and making big plans has come to an end.
Now, Coach Core are working towards the end of their strategy and thinking about ways to improve on the next ten years.
We've not only doubled our team size and are reaching more communities, but we're improving the quality of what we do too.
If you'd like to support our work, there's still a chance to donate £10 towards the next 10 years. Every penny goes towards engaging hard-to-reach young people and giving them life-changing opportunities.