Results Aren't Everything!
With results day coming up, we know there is a lot of anxiety around what you're going to do next. #RAE is our new campaign to give you some direction.
The dreaded words, 'Results Day'…
We know. 
Although we can't guarantee the best grades or promise a certain future, we do know that you're going to be okay.
We called our new campaign 'Results Aren't Everything' because we meant it.
Our brand-new campaign is designed to show that there are options and ways to achieve your dream career, without relying on GCSE/A-Level results.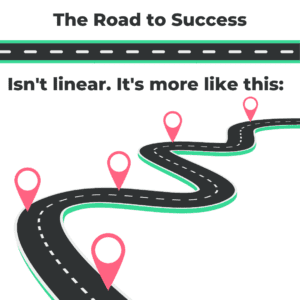 Whatever your dream career is, or wherever you want to end up, there will be multiple ways to achieve your goals.
You no longer have to go down a certain route. You'll find that you may have to drive through some unexpected twists and turns. You may have to make a couple of stops. You may take multiple, extra roads. But you will get to where you want to be.
We know that there are SO many factors that influence how well you can do in exams. We're here to tell you that they're no roadblock to success.
You'll feel a lot of things on results day but we hope that you will feel pride. It may be the numbers and letters next to your name, but if not, you should feel proud if you succeded in:
– Still trying to get grades despite hardships
– Making it through 16+ years of education, especially if you struggled academically
– Being someone with skills that aren't recognised through exam results
– Sacrificing education for other important reasons
– Googling your options, showing that you're invested enough to want to shape your future
If you want some inspiration, here are 5 examples of successful people who didn't get the grades they wanted:
Deborah Meadon
Dragon's Den Business Boss didn't even take her A-Levels and left education as soon as possible. Her net-worth is now above £60 million and she has been awarded several honorary degrees.
Simon Cowell
We all know this music industry genius as he's such a big name, but he didn't make it through school and left with just one qualification equivalent to a single GCSE. 
Sarah Millican
This professional comedian once tweeted: "To everyone getting A-level results today, good luck but it isn't the end of the world if you don't get what you want," Sarah Millican said in a tweet. "I got a D and and E."
Tom Hardy
Despite being streamlined for success, Tom Hardy dropped out of school and faced years of drugs and crime. He managed to turn his life around and become one of the biggest actors going. 
Some of our very own apprentices
(Okay this is a little cheeky, but hear us out)…
Many of our apprentices had setbacks meaning they didn't achieve the grades they wanted. Some wanted to go to university but didn't make it in and some couldn't afford to. Lots of our apprentices just wanted to be done with education. Some couldn't even access it if they wanted to.
Regardless of why they chose us, we were able to accept them onto our courses without even asking to see their grades.
Our sports coaching apprenticeships accept anyone who has the motivation to overcome certain hardships in their life. Our charity exists to offer employment opportunities and build upon skills after education to give you an equal chance of success.
Many of our apprentices didn't even come from a sporting background or were particularly sporty, but did want to do something that benefited their community and wasn't reliant on academics. Our apprenticeships meant that they could start earning and gain a qualification, making it the most accessible and rewarding next step.
You can read about what our graduates are up to now in our Graduate of the Month features:
As a social mobility charity, we exist to offer alternative routes to success. We demonstrate how you can achieve anything if given the right opportunities. If this sounds like a good route after results day, then check out what vacancies we have near you: Apply for an Apprenticeship – Coach Core
If there aren't any at the moment, then bookmark the page and check back often. As we've said before, success isn't linear and your career can start at any time. We have vacancies opening up regularly so it's worth keeping an eye out. Alternatively, follow our socials at @wearecoachcore to stay in the loop.