Key Details
When:

13 – 17 October 2022

 

 

How:

Walk, jog, or run it

 

Registration fee:

£250 – £598 depending on option chosen 

 

Fundraising target:

£755 – £1450 depending on option chosen 

 

 
The Challenge
The UNESCO World Heritage Draa Valley provides a dramatic backdrop for our double marathon distance challenge, across baked rocky trails, through red clay Berber villages, and palmeries, down to the sandy dunes of the mighty Sahara. After a tough day under the Moroccan sun, relax in our private Bedouin campsite with hot showers, dining tents, a bar with cold drinks, entertainment, and luscious local food.
Whether you're a keen walker, or even a would-be 'Marathon des Sables' runner, you can join as an individual, with a friend, or as a group, and take the marathons on at your pace. It's a great value 'all inclusive' package – for an unforgettable 2022 Moroccan adventure!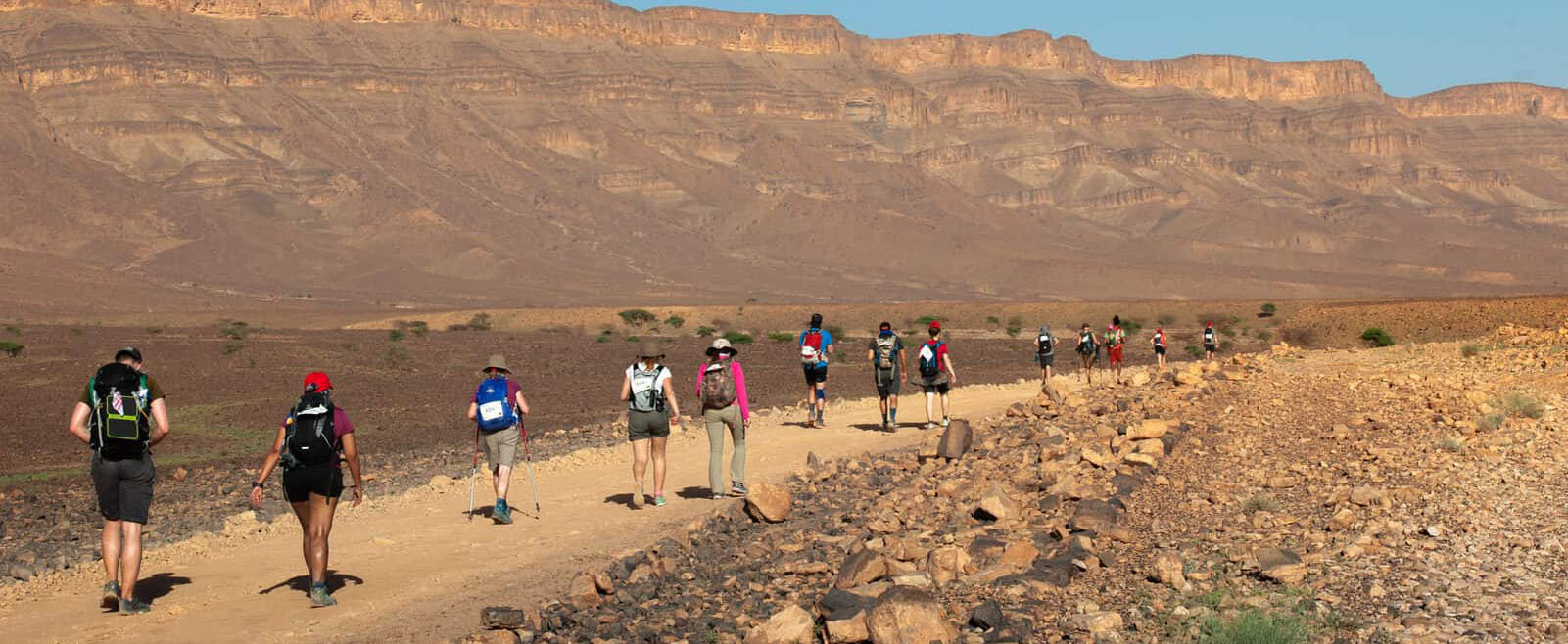 Fundraising
Charity sponsorship – pay a small registration fee and do lots of fundraising!
Land only – £250 deposit + £1450 in fundraising
Flights included – £723 deposit + £945 in fundraising
Mixed Funding – pay a higher contribution to the cost of your place and fundraise less
Land only – £598 deposit + £755 in fundraising
Flights included – £250 deposit + £1890 in fundraising
You will need to raise 50% of your fundraising target at least four weeks before the event in order to confirm your place on the day. Don't worry, we're on hand to help you reach your goal, with lots of fundraising materials at the ready! Please get in touch for a chat if you have any questions, we're always happy to hear from you.
Covid-19 Security
All events are designed to be Covid-secure. The organisers ran the UK's first Covid safe event in September 2020– the Chiltern 50 – with great success. Moving forwards they will continue to use bigger event sites so they can do social distancing, have covered seating areas, one-way systems, rolling single starts, hand-sanitising and clear signage around Covid.
Questions?
For further information about the challenge, its inclusions and FAQs, please visit the official organiser's website or email l2b@ultrachallenge.com. If you have any fundraising questions, you can get in touch with a member of Coach Core by emailing info@coachcore.org.uk, or give us a call on 07904 341 656. We will be delighted to help.