Spotlight On: Nicole
Nicole is a graduate of the Coach Core programme in Northumberland, Tyne & Wear. We caught up with her to see what she's up to now and hear her reflections on the apprenticeship.
Nicole graduated from her Coach Core apprenticeship with Newcastle United Foundation earlier this year and move seamlessly into fulltime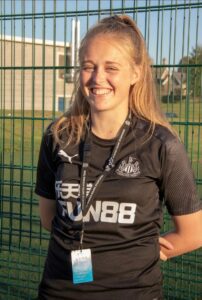 work with the same employer. She has been nominated for Coach Core's apprentice of the year two years running, so she is obviously doing something right! We caught up with Nicole to see how she was getting on and what reflections she had about her apprenticeship.
Nicole came onto the apprenticeship straight from school,
"I wasn't interested in university, I'd applied to an apprenticeship with EDF Energy which I turned down in the end to take this one with Newcastle Foundation instead. It was a really difficult decision. Teaching had always been something I'd looked at, but I'd never wanted to stick with the same school, the same class for a whole year, because the thought of that just drained me slightly. So when this opportunity came up where I'd be going around all the classes in a school, and other schools as well, teaching sports which is something I've always loved – it just seemed like the better option for me.

My work colleague had seen me working in the community with a junior team and he asked me to come along and do some volunteering with the Foundation to start with. It was on the Kicks programme we run; the idea is to keep kids off the streets and allow them to play football for free. I was involved in that to start with, and then they had another programme they started running which was Girls Football and the lead coach from that asked me to come and be involved. I then started to question about an apprenticeship and they said 'actually we do have one and we'd like to offer it to you.'"
Nicole joined 17 other apprentices on the inaugural Northumberland, Tyne & Wear programme which comprised 13 different employers across a whole range of sporting and social organisations.
"I really, really enjoyed it while I was on the Coach Core programme. It was good to meet new people from different backgrounds. My tutor was Wasim Collins, he was absolutely fantastic, he was so, so down to earth and, bless him, I still don't know how he put up with me."
The benefits of being in a group of apprentices across a wide range of different employers soon became clear
"We were all from backgrounds and stories and we just had this really tight bond, which made it a million times better when it came to education days because we were all so happy to see each other. And because we had lots of different companies involved through Coach Core it opened up more courses to other people. We all came out with a lot more qualifications than we were originally expecting to because, all because we were sharing with each other.

When I first came in I was terrified to do any sport other than football, because it was my comfort blanket. 'I know this, this and this, I know I can go out and deliver a good session'. Whereas now, my go-to sport that I want to deliver is actually cricket. To know that I've changed, to be able to do a wider variety of sports, is a really massive thing to me."
Nicole is working mainly as a Primary Stars coach – teaching PE in schools and running holiday camps and after-school clubs, continuing the work she started on her apprenticeship. Like most of our apprentices, she started off by shadowing lead coaches:
"It was gaining lots of different skills from them, different techniques, and then developing my own coaching style, working out what worked for me, what didn't work for me. I pinched ideas from the other apprentices across the different sports and developed them in my own way.

My mentor has become my manager: Dave Pick. He has been known in Berwick and across Northumberland for years, for all the things he's been involved with in sport. He's just absolutely incredible, and so, so experienced. It was great to have him come along to watch me delivering my own sessions that I'd created and then getting the feedback from him – to me that is absolutely huge!"
Going forward, Nicole's goal is to
"keep gaining as many different qualifications as I can. Throughout my apprenticeship I got qualifications in loads of different sports. But my main goal is to get to a UEFA B License in future – to be one of the very, very few people in my community who have that and then to use that to help my community."