Coach Core Awards 2023
Discover who won the Awards celebrating Coach Core people and organisations in 2022
2023 Awards
The Coach Core Awards celebrating 2022 took place on February 8th at The Oval in London. This new date gives us a moment to reflect on the previous calendar year, and places the ceremony in the heart of National Apprenticeships Week, which only feels right! The ceremony was opened by a speech from England Blind Footballer and entrepreneur Azeem Amir – a member of the Coach Core Youth Board.
The Awards brought together apprentices, graduated apprentices, their employers and learning coaches, as well as supporters and other partners, to celebrate and highlight everything that makes Coach Core special.
All the judges stressed how hard it had been to rank the finalists and noted that each would have been a worthy winner in their own right. Nevertheless, as one of them said "there must be a winner" and so the following people were chosen to receive the 2023 Coach Core awards:
Leeds 2020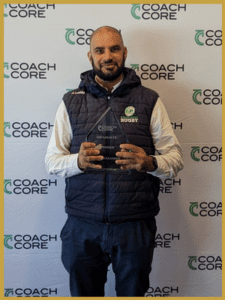 White Rose Rugby
While acknowledging that support is sometimes needed, Ahsan doesn't let his physical or learning disabilities hold him back from achieving what he wants to. In particular, the education aspect of the apprenticeship was a challenge, especially starting in lockdown and taking in part in Zoom. Ahsan was also incredibly anxious about his assessments. Nevertheless, thanks to his hard work (and support from his Learning Coach and Mentor) he passed first time with the assessor saying she was hugely impressed with the impact he has on the participants within his sessions and that he was a credit to White Rose Rugby.
Through his apprenticeship and beyond he has grown in confidence across his coaching, social and public speaking. Early on he gained the confidence to lead the training sessions for his Mixed Ability rugby club, Bumble Bees RUFC, and was recently rewarded for his coaching by being invited to coach the MARI team (Mixed Ability Rugby International) – an equivalent to the Barbarians RUFC.
Ahsan always wants feedback from sessions and acts on any advice or suggestions for improvement. He is an inspiration to all who meet him and continues to positively promote being active, whether at Beechcliffe School mentoring SEND (Special Educational Needs and/or Disabilities) pupils or helping to deliver Level 1 & 2 Sports Leader awards in mainstream secondary school. During his time spent supporting some of the most vulnerable children on a HAF (Holiday Activities & Food) camp, Ahsan developed brilliant relationships with a number of children that lead to them trusting him to share concerns with him. This was particularly evident with a young autistic boy, who was selectively mute, yet was happy to explain to Ahsan verbally when he was having issues with sensory overload.
"Ahsan has had an incredible impact on the rest of the team at White Rose Rugby. His determination to succeed and his desire to learn keeps the rest of the team on their toes. He's an inspiration to everyone who he works with and there isn't a limit to how much he can show others that the right attitude will always lead to success."
Northumberland, Tyne & Wear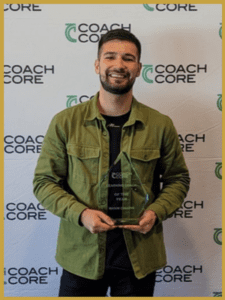 Due to the type of young people Coach Core bring on, we know a 'traditional' education environment isn't usually effective. Waz creates sessions that are engaging, enjoyable and allow Coach Core apprentices to learn in a way which is best for them. A survey of his apprentices had a consistent, positive theme: their joy in the education days with their Learning Coach.
Waz combines this with a willingness to support individual apprentices however they need it, with several of them highlighting his selflessness to us. He stays late, is accessible at all times and sources specific CPD. He has helped one apprentice who struggled with their literacy, another move employer when their travel became impractical and yet another with their homelessness. Further, he promotes apprenticeships and the Coach Core programme at every opportunity, travelling to attend careers fairs and conferences.
"Due to his understanding and lived experience he not only inspires the apprentices to aim high but also instils in them the importance of achieving their dream so they can inspire future generations who are just like them."
Northumberland, Tyne & Wear
Hat-Trick are deep believers in developing a pipeline of success in their local area: young participants become volunteers who become apprentices who become full-time members of staff. Hat-Trick have taken on 5 Coach Core apprentices, 2 of whom are now members of staff, 2 of whom are on the programme currently and 1 of whom left the programme to take up full-time work in the school Hat-Trick had her working in.
They are committed to supporting their apprentices holistically, not just professionally, including helping one who was homeless and sofa-surfing when the programme began, and is now in a permanent place of residence and receiving support from a counselling service.
Hat-Trick want to set their apprentices up for the long-term and so their apprentices are trained on developing and running programmes from start to finish, including bid-writing, planning, and evaluation, as well as face-to-face delivery. This, combined with training courses (like Knife Crime Awareness courses, FA Level 1, Youth Work) and opportunities (like leading on a Commonwealth Games summer camp) means their apprentices are likely to develop positive sustainable careers at Hat-Trick or beyond.
"Given they are such a small organisation it is amazing the support they are able to provide young people and the Coach Core programme."
Bristol Sport Foundation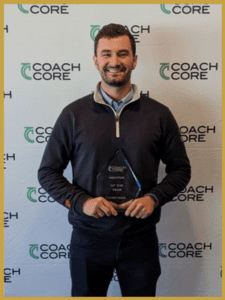 Bristol
Chris helps his apprentices improve their confidence and self-esteem as well as supporting their professional development. He gives brilliant written and face-to-face feedback, and follows up development points with resources that will support the apprentice. He is open-minded about the apprentice's development and encourages them to pursue their passions, rather than imposing a 'company line'. When the programme in Bristol was delayed for a few months, he went above and beyond to ensure an apprentice who had already committed was able to start early so she could pay her bills and meet her responsibilities.
"Chris is a coach I think about every time I have a wobble or get in my head. He's made me think about my own coaching practise, what sets me aside from other coaches and motivates me to think about what children love about my sessions. He reminded me that it's ok to not have everything all figured out."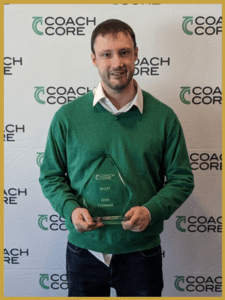 Dan is a former Coach Core Apprentice (London, 2017) who is now a lead coach with his original employer: Greenhouse Sports. In 2022 Dan supported Coach Core by fundraising over £1,000 for our next generation of apprentices, delivering speeches at major events, being an active member of our Youth Board and consulting for us on the development of resources for Sport England's Play Their Way campaign.
"Dan's passion for Coach Core is truly inspiring and his eagerness to support our ongoing work, and help fund future generations just shows the generosity of his character!"
Birmingham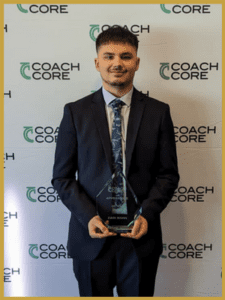 MAD
Zain works across a number of different programmes, including HAF, mentoring in secondary schools and delivering a youth-led youth club. He is also writing funding bids, creating mentoring plans and timetabling sessions.
School engagement is a particular focus for Zain and he has taken the lead in mentoring a large cohort of young people which he identified as having issues that could be resolved. He has taken a lot of initiative to help resolve friendship and behavioural issues within the school and invited them to a youth club to engage further. He has supported students dealing with incidents of racism, self-harm and drug abuse with compassion and empathy. He identified one pupil as potentially needing more support by studying the school's behaviour referral system. He has put a lot of time and effort into that young person – who had a lot going on in their home life – and has helped them better control their behaviour and become a more confident and outgoing person. He has also helped to develop the school's Equality & Diversity Group and given career pathway talks on apprenticeships.
The youth- led youth club is a project created by Zain and follow cohort members for 2019 youth ambassadors' program in Stockfield, Birmingham. It's core idea is that local and qualified young people (18-21) deliver sports and mentoring to 11-16 year-olds. As well as delivering on the sport sessions, Zain has arranged workshops, including art, first aid and guns-and-gangs.
The apprentice has provided opportunities for Zain to develop and he has taken them with both hands, growing as a coach, a leader and a person.
"Not only is he a model professional, I consider him a friend of mine. He has been an absolute pleasure to work with and whatever holds for him in the future is the least he deserves."
The ceremony also presented, and thanked the 10 Coach Core Champions – people who have made a significant contribution to Coach Core's mission over the last decade and without whom we wouldn't have achieved the successes we have so far:
The Champions are:
Colin Evans
Eboni Usoro-Brown
Edward Wray
Gareth Norman
Heather Frankham
The Prince & Princess of Wales
Scott Hann
Sean Watson
Stephen Mitchell
Stuart Armstrong