Coach Core Awards
Every year we host our annual Coach Core Awards, which give us a chance to celebrate the best of our Coach Core talent, from apprentices and graduates, to mentors and tutors.
2021 Awards
The 2021 were a hybrid event that took place at The Oval. We hosted a panel discussion between Scott Hann (GB Gymnastics coach), Eboni Usoro-Brown (GB Netball), Rich Birkett (former Wasps player, now Wasps Women's Coach) and Hayden Skinner (former Coach Core apprentice, GB gymnast), hosted by Stuart Armstrong (Strategic Lead for Workforce Transformation at Sport England)  before the main event got underway.
The winners of the 2021 Awards are:
This award celebrates a graduated Coach Core apprentice who has gone on to achieve remarkable things since their Coach Core programme. The winner is Annemarie Roberts:
Annemarie lives & works in one of the most disadvantaged areas in Newcastle. She is employed by Hat-Trick, where she did her apprenticeship, and has been developing new programmes from funding to reporting, creating big increases in local activity & volunteering levels.
This award celebrates the educator who has surpassed expectations in support of the apprentices they are teaching. The winner is Brogan Jones:
Our first programme in Leicester started & the country went immediately into lockdown. Brogan went above & beyond to ensure the apprentices stayed engaged, taking particular care over those with digital poverty, home schooling & health issues.
This award celebrates someone in the Coach Core network who has made a significant contribution to our mission, has demonstrated Coach Core values and deserves to be recognised for their support and dedication to the programme. The winner is Luke Green:
As central partner, Luke pulled together our Leicestershire programme and led them through going into Covid lockdown just weeks after starting. He knows all the apprentices personally, has secured extra funding for the programme and is committed to building and growing apprenticeship work across Leicestershire.
This award celebrates an individual in an organisation that employs a Coach Core apprentice who has surpassed expectations in supporting their apprentice(s). The winner is Dwayne Murray:
Dwayne works at Hat-Trick where he has mentored two Coach Core apprentices, encouraging them to be themselves and not hold anything back. Both are now full-time employees of Hat-Trick. He is a role model not just for his apprentices, but for the community.
This award celebrates an organisation which embraces the Coach Core ethos and uses the benefits of partnership working to support the Coach Core apprentice(s) they employ. The winner is LS14 Trust:
LS14 are empowering apprentices to shape their own futures, supporting one through their football qualifications and the other through youth work training as they begin to shape their preferred careers. They also provide opportunities to the other apprentices in the group.
This award celebrates a Coach Core apprentice who has surpassed expectations in their programme. The winner is Aura Chacón Godoy:
Aura started her apprenticeship at Leicestershire County Cricket Club never having played cricket before! Despite that she thrived, creating women's engagement programmes, Zoom and walking cricket classes for the elderly and kids sessions. She is described as 'infectiously positive'.
2020 Awards
The 2020 Awards took place online, hosted by our partners UK Coaching.
Awards were presented by Judy Murray (tennis coach, former British Fed Cup captain), Max Whitlock (5-time Olympic medallist gymnast), Scott Hann (elite gymnastics coach), and Steph Houghton (England and Manchester City football captain).
The winners of the 2020 Awards are:
Renee Gottshalk – Renee has gone from apprentice to full-time employee at Aston Villa Football Club Foundation where she increased female participation in the Kickz programme by 386% in 1 year. She wass also one of 12 women nationwide to be enrolled onto Women in Football's 'Women in Leadership' Level One and Two courses.
"She is an inspiration and a role model not only to young people from Birmingham, but to her peers and colleagues at the Foundation too"
Dave Reed – Dave introduced Coach Core to 3 rugby clubs in Northumberland and worked closely with their apprentices, mentoring & providing significant extra training & qualifications for them. Sadly Dave was made redundant in October but continued to work as a volunteer to continue supporting the 3 apprentices.
"I am honoured to be able to propose him for this award."
Wasim Collins – Wasim adapts his sessions to meet the needs of the apprentices, including those with medical conditions that have previously lead to them being left out. He effectively builds apprentices' confidence by pushing them out of their comfort zone but within a secure framework.
"He is the most supportive teacher I have ever met"
Hat-Trick – Founded in 2005 has worked with over 10,000 children and young people, and helped over 100 Newcastle residents to gain FA coaching awards. They use football to help young people gain skills and confidence – while having a great time along the way.
Raheem Hussain, at Linx Hemlington – Prior to lockdown, Raheem spearheaded a crime prevention scheme that engaged with kids in a particular part of town that had real issues with anti social behaviour at a specific time each night. As Covid-19 took hold, and the charity's operations ground to a halt, this he started a number of online coaching sessions to keep engaging the local community and bring fitness and soccer skills virtually on a regular basis.
Abdul Hakim – Abdul arrived to the UK from Ethiopia, aged 15. He is a foster care leaver with a drive to constantly improve himself, overcoming language barriers on a daily basis.
"His journey so far is already incredible and I feel privileged to be a part of the development of his future"
2019 Awards
The 2019 Awards took place on December 10th at Wembley Stadium, London. Attendees were given a full stadium tour and got to see the original FA cup.
Awards were presented by Eboni Usoro-Brown (Commonwealth gold medal winning England netballer), Scott Hann (elite gymnastics coach), Ross Embleton (Head Coach at Leyton Orient Football Club), Justyn Price from the FA and Stuart Armstrong (Head of Coaching at Sport England).
The winners of the 2019 Coach Core Awards are: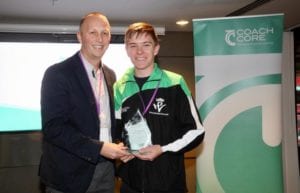 Callum from Yellow Door Youth Club. Yellow Door Youth Club which is an independent charity, offering Information, Education, Counselling and Activities to young people between 11 and 25. Callum successfully planned, set up and ran 5 successful projects throughout Essex. He has played a key role in implementing the Summer Youth Projects, especially the project Holiday Hunger which aims to engage young people who would normally receive free school meals. This project formed part of Active Essex's initative approach to support the apprentices with additional funding for their programmes. Callum's leadership, dedication and funding and volunteer engagement made sure the projects were a great success.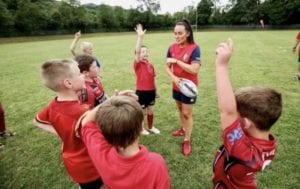 Kira from Welsh Rugby Union. Kira is a graduate of the Welsh Rugby Union apprenticeship scheme and has gone on to become one of the youngest qualified NVQ assessors in the country. She is now studying Sports Management at University and is also the Great Britain Wheelchair Rugby ambassador for Wales. Kira demonstrates Coach Core values on a daily basis and is a positive role model for current and past apprentices who constantly seek her council.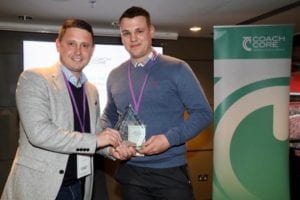 Dave Smith from Coach Core Bristol. Dave is an experienced tutor for the Bristol programme who's key strength is his commitment to supporting of all the young people on the programme. He works tirelessly to adapt and bring innovation to his sessions. Dave is always looking for new opportunities for both his current apprentices and previous graduates, whether this is training or volunteer experiences, or support into employment opportunities.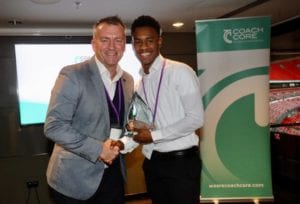 Jevaughni from Sport Birmingham. Since graduating Jevaughni has gained full time employment with Sport Birmingham as a Youth and Sport Engagement Assistant. After only a few months he took on the responsibility for the coordination of a city wide project focussing on reducing the tensions among specific communities in order to create better communication. He has proven time and time again that he is willing to rise to the occasion and has taken challenges and setbacks in his stride.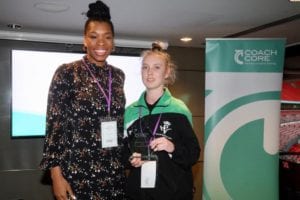 Shannon from Coach Core Nottingham. Shannon started her journey as a young volunteer with Nottingham Clubs for Young People and her dedication and passion for helping others gave her a spot as an apprentice. Now 13 months into the apprenticeship, she has never missed a session, one to one or education day. She has been really supportive to her peers both in and out of the education setting, helping them overcome personal challenges so they can stay on the programme. She is indispensable member of the Nottingham CYP team and has recently been offered a full time position with them.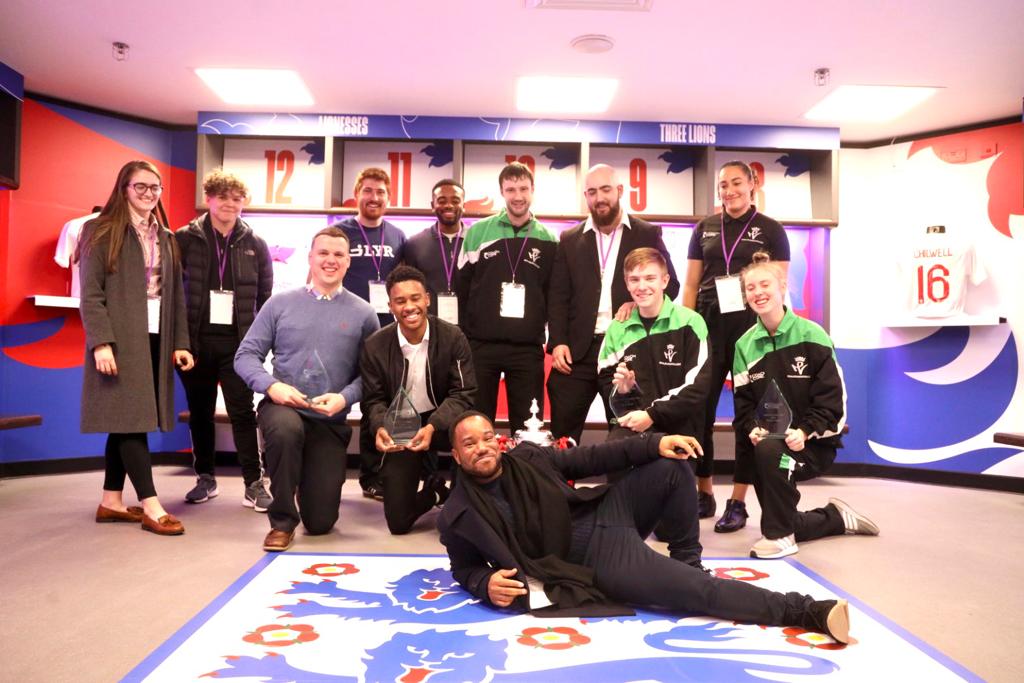 Previous Awards
To find out about the Coach Core awards ceremonies of the past, and who the winners were, check out the link below
Here you'll find the archive of previous Coach Core Awards