Spotlight on: Empire Fighting Chance
We shine the spotlight on an apprentice employer that uses boxing to engage with young people in Bristol who are deprived or at risk.
Empire Fighting Chance was born in 2006 (and became an official charity in 2013) when co-founders Martin and Jamie saw two young lads doing and dealing drugs in the park. They went over to them and invited them to come and do some boxing in the gym and discuss the issues they faced. A few months later they had over 50 young people attending sessions at the Club and it grew from there: in 2020 the charity worked with nearly 5,000 young people.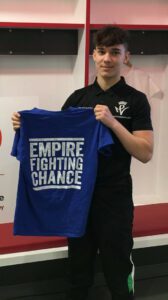 The charity's mission is to help young people in Bristol who are deprived or at risk – to act as an early intervention. They use non-contact boxing as the tool to engage, whilst weaving in personal development. That mentoring part is key:
"Building a rapport with the young person is really important because they've got to trust what you're saying to them, believe what you're saying. It comes down to listening and understanding what their issues, what their problems are and then helping them face it and attack it in the right way."
– Aaron
The aim is not just to teach some boxing skills, but to use it as a tool to help people deal with any challenges they might be facing outside of sport.
"The boxing goes down well because we use it as a metaphor: just because you can't skip now doesn't mean you can't skip in 3 weeks' time. If you're struggling in school, just because you can't do maths now doesn't mean you can't work hard to get there. We use mini-goals as well: if you can't do 5 skips you're not going to set yourself a target of 50 because that's just going to demotivate you, but you might set yourself a target of 10 and work up in small progressions. So the boxing just works really nicely with all of our messages."
– Aaron
Sessions are either 1-2-1 or in small groups of 6-8 young people with one of EFC's 10 coaches. Young people are referred to them either through schools, the police, social services, charities, parents, or clubs.
"We aim to work with young people who haven't been given many opportunities in life and strive to give them positive opportunities. We support young people from deprived areas, most who live in poverty, poor housing and workless households.  We just try to make them feel a little bit more positive about their futures."
– Aaron
It takes – as they put it – a special type of person to want to go in the ring and spar, so all their boxing is non-contact. Their main offer is a 20-week programme of boxing training and mentoring, but they also offer therapy, careers, entrepreneurial, and strength & conditioning programmes too.
The charity have just signed a contract with England Boxing, so now any affiliated club can go to England Boxing and get access to free training from Empire Fighting Chance, allowing them to roll out their own programmes.
Empire Fighting Chance joined the Coach Core Bristol programme for the first time in 2017 and currently have 2 active Coach Core apprentices. Stay tuned to our social media to find out more about how that's going.