Running on Sunshine
Laura and Erin from our corporate partners, CMS completed the 'Chase the Sun' race and raised an incredible £315!
As a charity, we rely on donations to make the impact we do. We need rays of sunshine to shine light on our good work and support us.
That's why we're beaming to find out that Laura and Erin from our corporate partners, CMS, completed the Chase the Sun race for us last week and raised over £300! Thanks to donations still coming in, that number is continuing to rise.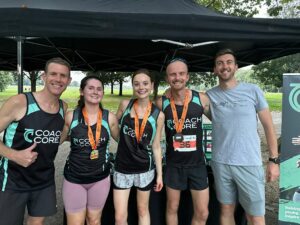 The race is a fun 5k/10k run, but was a big challenge for our runners who completed the race after a long day at work and in scorching 32°C heat. Despite the gruelling conditions, these two had a lovely run through Hyde Park and were cheered on by our team.
Laura and Erin proudly wore their medals whilst cooling down at our supporter stall.
We think they looked like winners in our Coach Core vests before they began. Also repping the Coach Core brand was 5k winner, Oli!
Completing the race is already an incredible achivement, but special shout out to Laura as it was her first ever race!
If you'd like to know more about our partnership with CMS, then check out this blog post: Coach Core Launches Partnership with International Law Firm CMS – Coach Core
We're so proud and thankful to have such commitment to our cause. We wouldn't be here in this capacity without the support of people like Erin, Laura and all those who have donated.
If you'd like to make a difference and help us round up to a £500 total, you can still donate to their pages:
Alternatively, you could find a challenge to take on yourself and raise money to get more young people into work: