Meet Lily, the football coach inspiring other girls
We've been talking to some of our female apprentices, who are working hard to inspire other girls to get involved. Meet Lily from Colchester United.
We've been talking to some of our female apprentices, who are working hard to inspire other girls to get involved. Meet Lily from Colchester United.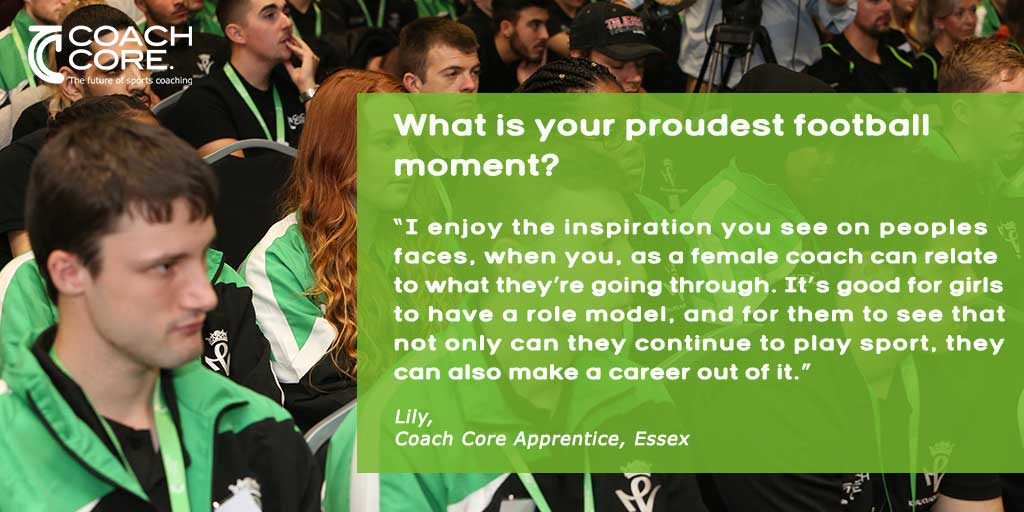 How did you get into football?
I had always been sporty, and had been involved in judo and horse riding in the past, but had no interest in football. I actually didn't want any involvement in it initially! I was the typical little sister, playing in the garden whilst my brother kicked footballs at me. However, during the Coach Core recruitment event, I was told that Colchester United wanted to interview me and, knowing that they also delivered a multi sports programme, I decided to give it a go!
What have you been involved with at Colchester United?
I've been at Colchester around 7 months now and am just about to start my FA Level 1 Coaching Award. I deliver on a number of girls-only and mixed sessions, working with children across a range of ages. I deliver both multi sports and football, and although I'm not confident yet to lead sessions independently, I'm assisting another coach each week, delivering the warm ups and certain drills within each session.
What's it like being a girl working in football?
It can be difficult; when the boys get technical and start talking about Football Manager, they lose me! In general though, they do look out for me and I've learnt a lot from them. My brother is happy that I'm involved now too; he's got someone to talk to now!
Had you ever considered football as a career option?
Not really- I actually wanted to be a children's nurse. It was my PE teacher who encouraged me to continue to play sport and to pursue it as a potential career option. I'm so glad I did; I've got so much from the experience!
What do you enjoy most about coaching football?
The one thing I enjoy most about coaching girls is the inspiration you see on their faces, when you, as a female coach can relate to what they are going through. It's good for girls to have a role model, and for them to see that not only can they continue to play sport, they can also make a career out of it.
Is there anything you find more difficult?
I find the boys a bit more tricky to coach, as they like to challenge everything from a young age. I also found it hard to know what to coach at first, as I was completely new to the sport and wasn't confident on the rules. However, you never learn without a challenge- I've picked up ideas from other coaches and adapted activities from other sports, so it's more natural now.
What is your proudest football moment?
A few weeks ago, a group of girls that I've been coaching reached the semi finals of the EFL Girls Cup. They were only two goals away from going to Wembley, so I was gutted that they didn't get through, but they did really well to get to where they did!
What's your favourite coaching tip?
I always encourage the girls to stick with it and don't give up! If you want it enough, you will get there.
What are your future aspirations?
I'm hoping to go to University in September, to study performance analysis. I'm also hoping to continue coaching at Colchester, if possible, and ideally combine football with my course.
What would you say to girls who are thinking about getting involved in football for the first time?
It sounds cheesy, but I would say just take every opportunity as it comes. You never know what's round the corner or what may come from it!