Going for Gold
Get the kids in your life to take part in our challenge - a series of fun activities reflecting the games in Tokyo. There are prizes to be won!
Are you a parent or coach? We want to help the kids in your life get into the spirit of the Olympic and Para-Olympic games, stay active and have lots of fun – so we came up with the Going for Gold challenge!
Over the next 3 weeks we'll be releasing a series of 8 challenges on our social media accounts, each one reflecting a different sport happening in Tokyo. They are designed to
a) be fun
b) teach a core skill needed for the sport.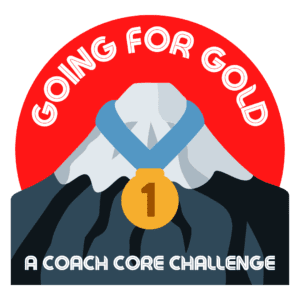 Each challenge will have a novice and an intermediate level – choose whichever is more appropriate or go for both!
We want you to set the challenge for the kids in your life (whether you're a parent, coach, carer or other) and record the results on your camera-phone. Post them up on social media with the hashtag #CCGoingforGold (and let us know which country the participant is representing).
Whoever completes the most challenges will win an official NBA basketball, as will the the best (most fun) entrant into each category!
We'll release the challenges, along with an example video, on our Twitter, Instagram and Facebook accounts as well as updating this page, over the course of the Olympics.
The live challenges are:
Challenge: Cycling
Level 1: Set up a course of cones (or any markers) to ride around. Put the cones close enough together so you can only cycle round them very slowly – this should be a challenge of balance and control.
Level 2: The track stand – come to a stop on your bike and balance (no feet on the floor or holding on with your hand) for at least 4 seconds.
Challenge: Track
Level 1: Arrange and compete in a race – any distance – with at least one other person. All participants must create and do a personal celebration like Usain Bolt or Mo Farah.
Level 2: Hurdles – set up a race course that has a series of objects to jump or climb over. If you have a group competing, time each person individually.
Challenge: Gymnastics
Level 1: Double forward roll/front somersault – complete 2 somersaults, one directly after the other (make sure you have enough space!)
Level 2: Double cartwheel – complete 2 cartwheels, one directly after the other (definitely make sure you have enough space!)
Challenge: Basketball
Level 1: Wall-passes. Take any ball that'll bounce and find a wall that's safe to throw against. Complete 5 passes off the wall back to yourself. One bounce off the floor is allowed.
Level 2: Trick shot – take any ball (that'll bounce) and find an appropriate size "basket": eg ping pong ball + mug or football + kitchen bin. Complete a trick shot throw that bounces once before going in.
Challenge: Field
Level 1: Javelin – take a mop (or pool noodle, or cardboard tube, etc). With a short run-up, throw it as far as possible.
Level 2: Hammer – take a football (or netball or similar) and put it in a shopping bag. Use the spinning technique to launch it as far as possible.
Challenge: Goalball
Level 1: Passing drill – Put a ball (football, netball etc) in a plastic bag and tie the bag handles so it can't come out. You should now have a ball that makes noise as it rolls. Find a partner and both put on blindfolds. Kneel about 5m away from each other and pass the ball back and forth by rolling it on the floor, 3 times each
Level 2: Penalty shootout – Put a ball (football, netball etc) in a plastic bag and tie the bag handles so it can't come out. You should now have a ball that makes noise as it rolls. Mark out a goal about 3m wide and kneel in front of it. Put a blindfold on. From 8m away get your opponent to take a shot at goal by rolling the ball along the floor. Save the shot! Alternate as per a standard penalty shootout.
Challenge: Volleyball
Level 1: Throw a ball in the air – clap as many times as possible – catch the ball again.
Level 2: Throw a ball at a wall. Get your hands into the 'dig' position and bounce the ball off the wall as many times as you can.
Newsletter
Sign up to our quarterly newsletter for the latest updates and activity from Coach Core:

Support us
Feeling inspired by what you've seen? Want to get into the spirit of the games by taking on an Olympic-inspired fundraising challenge in aid of @CoachCoreFoundation. You can download our Going for Gold Fundraising Pack with lots of ideas to get you started here, or get in touch with us on info@coachcore.org.uk.