From construction to Coach Core: Raheem's journey
We've been talking to some of our apprentices about their experience with Coach Core. Meet Raheem as he reflects on his journey to becoming an apprentice.
Apprentice Raheem, 20 years old, is coming up to the end of his Coach Core apprenticeship and is preparing for his End Point Assessment. Here he reflects on his journey to Coach Core and how his apprenticeship has helped him find a path in life he didn't think he could find.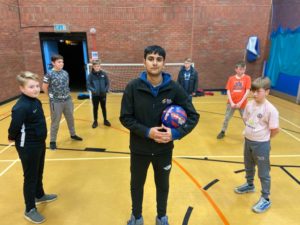 "After leaving the Prince's Trust, I was struggling to see the next step in my career. I felt as though I had wasted years in college doing a construction course which I didn't feel passionate about, so my confidence was low and I felt like I was heading in no direction whatsoever.

"My Prince's Trust tutor, Martin, got in touch with me and told me about Coach Core. He knew people who had been involved with the programme, and he knew I was quite sporty and into this type of project, so I was interested to hear more.

"I secured an apprenticeship with Linx and started my role in Feb 2019. When I first arrived, it took a while to settle in, but all the staff really helped and motivated me, and I can't thank them enough for that.

"I have helped run open access delivery from Monday to Friday overseeing the sports halls with sessions doing all sorts of different sports, such as football, dodgeball and bulldog. I have run two football tournaments in two different locations: one at the Acklam Green Centre and one at Teesside University. Both were a great turn out, with around 40 young people coming each time. The first one was a few months into my Linx career and the second one was a part of the summer programme in August, so I had a lot more experience and it flowed perfectly. After talking to young people individually they said that they really enjoyed what we put on for them.

"In September 2019 I was shortlisted for a BME award, which was a big achievement for me as it proved that I have made a difference not only in my own life but for other young people as well.

"Recently I was the lead of a residential where I had to plan everything. This helped me develop my leadership skills outside of my comfort zone as the young people who attended had a variety of complex needs. There were ten young people who participated in activities such as rock climbing, a leap of faith, and orienteering, and as a leader I had to motivate them and show confidence so they could succeed and develop.

"It is a really amazing feeling to help young people through the medium of sport, especially those that are hard to reach, to come along and participate in our activities which help them in many aspects of their lives.

"Before I started at Linx I had no idea what I wanted to do, but after being here for this length of time I feel confident and composed in most situations. It has really developed me as a person. If anyone came to me and asked about the apprenticeship, I would strongly suggest them to take the next step and go for it."
During Coronavirus, Raheem has not let the break in learning stop him from engaging and supporting his local community. Raheem has continued to work hard during this period to support his local community in Middlesbrough. Through his employer Hemlington Linx, he has been supporting with the delivery of food parcels, virtual 1-1's, games, youth support and activities to support people to stay physically and mentally well, whilst also recording some home videos – check out one of his classes here:
To hear more about how Hemlington Linx have been supporting their local community check out this radio clip broadcast on @BBCTees about the incredible work that Linx have been doing to support young people. Follow more of what they have been up to on Twitter: @Linxhemlington.
It is a really amazing feeling to help young people through the medium of sport, especially those that are hard to reach.