Congratulations Max and Scott!
Huge congratulations to Max Whitlock on his 3rd Olympic Gold on Pommel Horse, and to his coach Scott Hann, both Coach Core ambassadors.
On Sunday August 4th 2021 Max Whitlock won the Olympic gold medal on the pommel horse, retaining his title from 2016.
He is the most successful gymnast in Great Britain's history, and the most successful pommel horse worker in gymnastics history.
He is also a Coach Core ambassador, alongside his personal coach Scott Hann.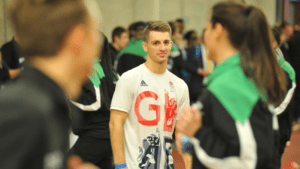 Max and Scott have been supporters since 2017 and have given so much time and energy to us ever since, at our awards and other events and behind the scenes too. Scott's gym – the South Essex Gymnastics Club – has been a long-term employer of Coach Core apprentices and so he has particularly close ties with the work we do.
It was inspiring to watch them at work in Tokyo and to hear the stories afterwards about their process and the trust that has formed between coach and athlete. In an interview Scott explained how his usual process of picking the Max's routine with seconds to spare, based upon his rival's performances, was thrown out the window when Max was drawn first in the competition. Instead they decided to commit fully:
"I told him, 'there's nothing else for it, you've got to go big.' He had to assume the rest of the field would go big too. He did the highest start score in the world and he delivered with hardly any mistakes."
For Max, he knew immediately that he had done something special:
"Even as my feet hit the floor, it was like, 'Oh my god.' I hugged Scott and said: 'I can't believe that I just done that.'"
A heroes' welcome has greeted them on their return to the UK and we'll be adding our heartfelt congratulations. We couldn't be prouder or more grateful that these two wonderful competitors can also give their time to supporting us.