Coach Core Sports Day off to a Winning Start
Coach Core's inaugural Sports Day saw 23 teams competing in classic events like the egg-and-spoon race as they vied to become the first ever Coach Core Sports Day Champions!
Coach Core Sports Day is a fundraising event that recreates the best parts of the school sports day and brings together teams to compete in classic events like the sack race, bean-bag toss and three-legged race. The first ever Coach Core Sports Day took place on May 17 2023 on the pitch at AFC Wimbledon's stadium and NOBULL were crowned champions.
Most importantly – thanks to the generosity of organisations and individuals, Coach Core were able to raise a whopping £13,000 towards securing apprenticeships and opportunities for disadvantaged young people.
Everyone is here for Coach Core, we're doing what we can for disadvantaged young people. It's brilliant because it gets everyone active and hopefully it will help kickstart careers.
Gary Laybourne, (our founder and CEO) kicked off the event before handing over to Scott Cooper a graduated Coach Core apprentice from Essex. He talked about how Coach Core helped him overcome unemployment issues due to his disability and equipped him with the confidence needed to become a sports coach with Future Youth Zone in Dagenham:
"Being on the programme has given me so much more confidence. I am now using this experience to inspire other young people with disabilities, showing them what they can achieve when given the opportunity. I always felt very supported by Coach Core during the apprenticeship, because I knew that there was always someone to talk to if I ever felt like everything was getting on top of me. If it hadn't been for the programme, I feel like I would have been in a very dark place, so I am delighted to be here today to support this event."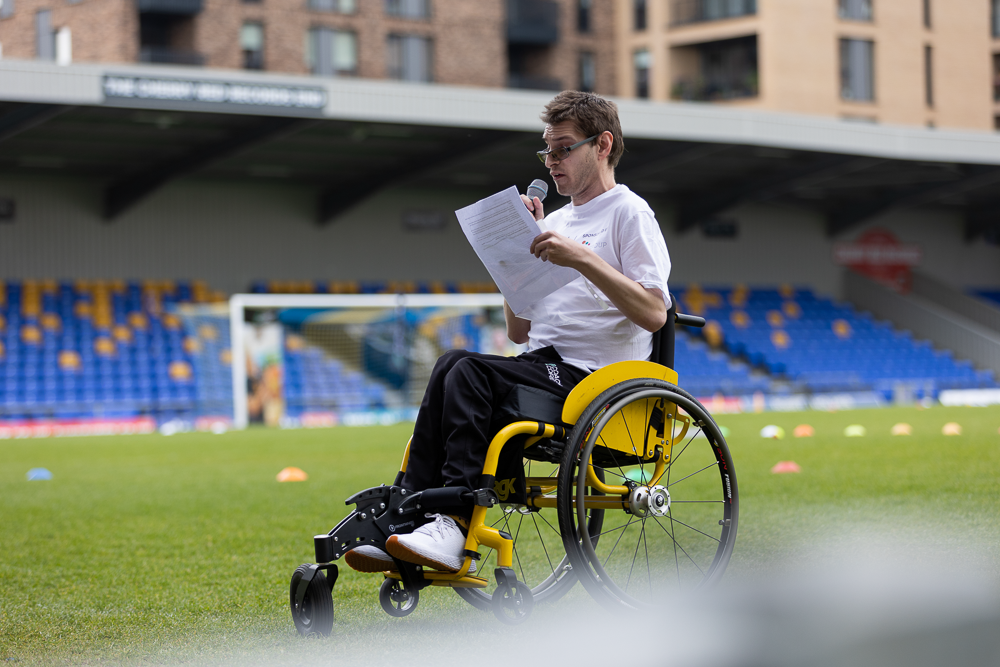 Participants were then introduced to the apprentices who would be leading the activities and the celebrity coaches that would be supporting them. Some limbered up, some gave pep talks and a few started on the pints to get into the spirit. All were absolutely thrilled to be there, and the environment was electric.
Events got underway and soon Jenni Falconer was dodging bean bags, Susannah Townsend (Olympic Hockey) was cross-training with some tennis, and presenter Rosie Tapner was hyping up the skippers. Olympic race-walker Tom Bosworth had to shift down some gears as he led the three-legged races whilst Suzanne Shaw and Chemmy Alcott were dodging frisbees and footballs. Meanwhile Callum Knight (aka Seapeekay) was livestreaming the sack-race competitors being coached by Jo Pavey to his thousands of online followers!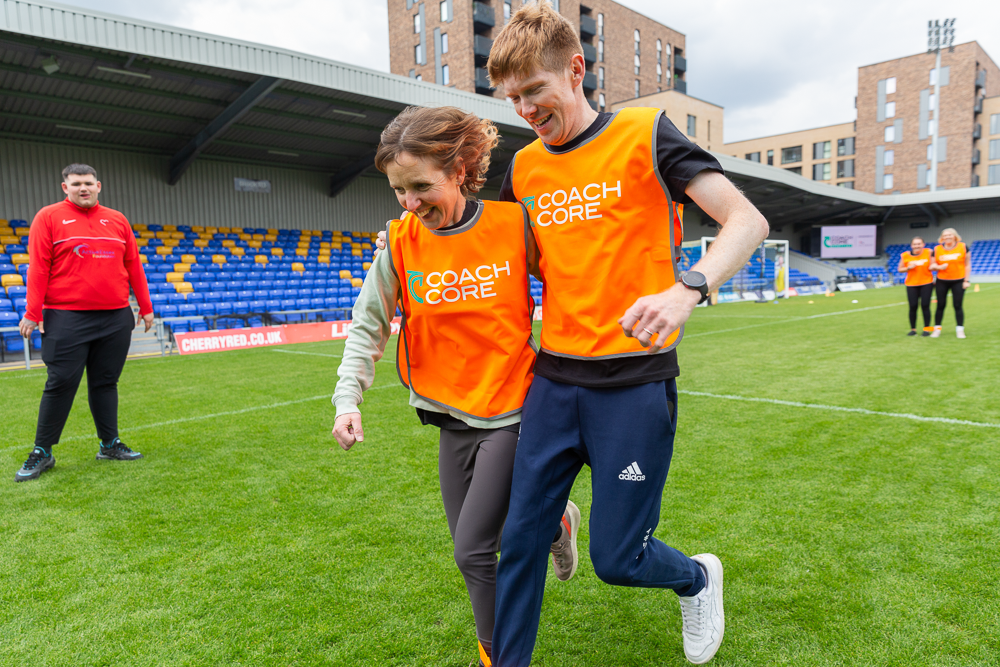 The day ended with a pit stop at the food van and then onto the bar, where we got to hear from our wonderful graduate, Diavian Frame. She spoke elegantly and confidently about not achieving the GCSE grades she wanted, but because of Coach Core, she's now in a position to continue studying at university and is inspiring other young girls to overcome adversity.
"Prior to Coach Core, I was struggling to see what my future would hold… What I loved about the apprenticeship was the how it opened my eyes to new experiences. I was able to work alongside and share my knowledge with apprentices from different employers." 
After everyone cooled off, we announced the winners of the raffle and the competition itself. Although it was a close one. RDI came in third, and BMS (Green team) fought tooth and nail but were just shy of first place. NOBULL took home the trophy and their names will be placed on our Coach Core shield.
We now look forward to planning ahead for the 2024 Sports Day, where we will be hosted at AFC Wimbledon again and joined by even more teams. We can't wait to build upon our success and make a bigger and better sports day!