Coach Core Awards: Graduate of the Year Finalists
This award celebrates a graduated Coach Core apprentice who has gone on to achieve remarkable things since their programme finished.
The Coach Core apprenticeship is just the first step! Whether they stay with their employer, move jobs or change sector entirely, doesn't matter – the Coach Core programme is about starting to equip people with the skills they'll need to thrive for the rest of their careers. We love hearing about what Coach Core apprentices go on to after their programme – and their success stories comes in all shapes and sizes. Every year we invite nominations for our Graduate of the Year in order to celebrate their triumphs. Read their stories:
The Finalists
Leeds 2020
White Rose Rugby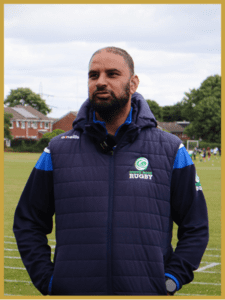 While acknowledging that support is sometimes needed, Ahsan doesn't let his physical or learning disabilities hold him back from achieving what he wants to. In particular, the education aspect of the apprenticeship was a challenge, especially starting in lockdown and taking in part in Zoom. Ahsan was also incredibly anxious about his assessments. Nevertheless, thanks to his hard work (and support from his Learning Coach and Mentor) he passed first time with the assessor saying she was hugely impressed with the impact he has on the participants within his sessions and that he was a credit to White Rose Rugby.
Through his apprenticeship and beyond he has grown in confidence across his coaching, social and public speaking. Early on he gained the confidence to lead the training sessions for his Mixed Ability rugby club, Bumble Bees RUFC, and was recently rewarded for his coaching by being invited to coach the MARI team (Mixed Ability Rugby International) – an equivalent to the Barbarians RUFC.
Ahsan always wants feedback from sessions and acts on any advice or suggestions for improvement. He is an inspiration to all who meet him and continues to positively promote being active, whether at Beechcliffe School mentoring SEND (Special Educational Needs and/or Disabilities) pupils or helping to deliver Level 1 & 2 Sports Leader awards in mainstream secondary school. During his time spent supporting some of the most vulnerable children on a HAF (Holiday Activities & Food) camp, Ahsan developed brilliant relationships with a number of children that lead to them trusting him to share concerns with him. This was particularly evident with a young autistic boy, who was selectively mute, yet was happy to explain to Ahsan verbally when he was having issues with sensory overload.
"Ahsan has had an incredible impact on the rest of the team at White Rose Rugby. His determination to succeed and his desire to learn keeps the rest of the team on their toes. He's an inspiration to everyone who he works with and there isn't a limit to how much he can show others that the right attitude will always lead to success."
Manchester 2018
Diane Modahl Sports Foundation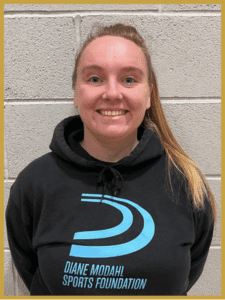 Since completing her apprenticeship with Coach Core Manchester and the Diane Modahl Sports Foundation, Aimee has displayed huge personal development and secured a Lead Coach role at the same organisation. Early on Aimee didn't understand how she was a role model to young people, and had some issues with timekeeping, uniform and energy levels. However, as she developed through the apprenticeship and beyond she began to see the impact she could have on young people and her habits changed. Her timekeeping and reliability are now exemplary, which is a key asset when building rapport with vulnerable young people. She has developed a genuine trust with participants, staff members and partner schools.
During this time Aimee has dealt with an incredibly impactful bereavement, and some mental health challenges. She has responded by developing a greater emotional intelligence and self-awareness, built the confidence to make tough personal decisions and grown in independence.
Aimee now leads the team that delivers to an average of 121 participants every Friday evening, and ensures the sessions are inclusive to all, providing mentoring and mental health support, managing dietary requirements and advocating what is on offer. She delivers assemblies to raise the organisation's profile, walks the playgrounds to build relationships, organises team development days and is always willing to help any young person who approaches her. Everything she does is young person led.
"You wouldn't dare leave our equipment cupboard a mess when Aimee is about! It is these little markers where Aimee's increase in confidence shows. Unapologetically ensuring we provide sessions of high quality to ensure young people have the opportunity to fulfil their potential."
London 2021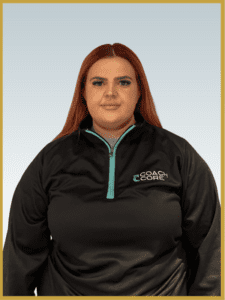 Dallaglio RugbyWorks
Grace transitioned seamlessly from an apprentice to a full-time role at Dallaglio RugbyWorks, immediately taking over responsibility for owning and leading sessions, along with the administration. She delivers across multiple programmes ensuring delivery is accessible and inclusive for all are participants whether they're within the Pupil Referral Unit delivery or SEN (Special Educational Needs) delivery. She has formed significant, trustworthy relationships with participants, particularly with a female cohort at Newhaven, who will only engage when Grace is present. They are now also going to the school gym at lunch times with Grace on a Friday before sessions start. Further, Grace played a key part in putting together a programme package for an supporter that led to significant multi-year revenue.
Grace has also spoken for Coach Core at several events about her positive experiences on the programme and is a confident and vocal champion for young people.
"A superb advocate for benefit apprenticeships can bring, she is incredibly hard working, diligent, creative and thoughtful, always happy to get involved or support in different areas of the organisation"