Coach Core Awards: Apprentice of the Year Finalists
This award celebrates a Coach Core apprentice who has surpassed expectations in their programme.
Our apprentices come from a huge range of backgrounds and experiences and work for some very different employers. What brings them together is a commitment to self-improvement and a desire to bring positive change to their communities. These five finalists are just the tip of the iceberg and their accomplishments a small reflection of the whole 2022 cohort. Nevertheless, the work they have done, the attitudes they have shown, the development they have gone through have made their accomplishments worth highlighting.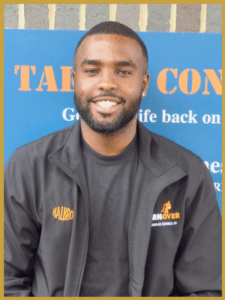 London
Project TurnOver

Chauncey has worked hard to change his life around after time in prison and uses his experiences to coach, mentor and inspire they young people he works with. He works on 8 or more sessions a week, using his rugby, football and boxing skills to engage and encourage the participants. Because of Chauncey's past experiences and age, the young people respect and listen to him. When one of Project TurnOver's young people was caught with drugs before attending the programme, Chauncey asked to speak to him and talked in depth about the consequences of his actions, the boy's anxiety about his court case and how the organisation can support him.
Chauncey is also working with a St Mary's University on a project evaluating the impact of organisations like Project TurnOver – a breakthrough piece of work that is being followed by a local MP planning on using it to access more government funding to support children who may be on the exclusion to Prison pathway.
"Chauncey has shown patience, understanding and most of all, he inspires the young people to achieve more than they aspire to and guide them on a positive future path."
Bristol

Axis Trampoline & Gymnastics
Hermione moved across the country to a city she didn't know for this apprenticeship, living independently and meticulously handling all the life administration that goes alongside that, whilst starting a new role! She has approached her apprenticeship with ambition, insisting on taking on more difficult qualifications and projects in order to give herself the best possible chance of a distinction. For example, she has chosen to stage a gymnastics display in the middle of Bristol for her course project, confidently tackling all the insurance, equipment transport, permission issues etc that come along with it.
She is flourishing as a coach despite having to learn the new sport of trampolining as she goes along, and she has found a love for coaching participants who live with a disability, create a fun, engaging and interactive sessions with an infectious smile on her face. She is extraordinarily conscientious about how she is comes across to others (participants, their parents, and other coaches), and works hard to enable every child to shine in their own way.
In her spare time she is a Young Sports Advocate at a golf club and hosts a teenage radio show discussing politics, current affairs, fashion, TV and sport – continuing to advocate for young people wherever she can.
"I have never been more impressed by a young person than I have by Hermione since she started her apprenticeship with us. Having worked with young people for my entire coaching career, and spent much of this time upskilling aspiring young coaches, I don't think I have met someone who embodies the Core Coach values more than Hermione."
Northumberland, Tyne & Wear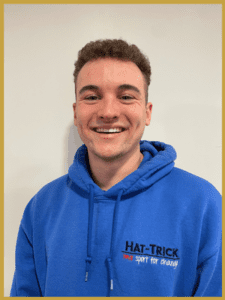 Hat-Trick
Lewis started with Hat-Trick as a participant, then volunteer, then Level 2 apprentice and is now working on his Level 3. He has a real passion for working with young people and his infectious personality rubs off on the young people he engages with. As a Community Sports and Health apprentice, he has been involved in writing funding bids and managing programmes as well as delivery. He has started a weekly sports session programme in a new area for Hat-Trick, built connections with the local school and successfully applied for two rounds of funding to deliver it. Another programme he ran raised awareness about Covid and dispelled false narratives about vaccines – for this he sourced support from local residents and translation services to promote sessions with people for whom English was not their first language. He has recently been a major contributor towards a funding application to the Ministry of Justice in which Hat-Trick will work with teenagers in secondary schools and communities looking at issues such as including county lines, theft, violence and knife crime awareness.
Lewis struggled with the confidence to take on the Maths and English requirements of the Level 3 Apprenticeship as much as the content itself. His diligence and work ethic (with support from those around him) ensured he passed both exams. He is committed to investing in himself and has taken his driving test, bought a car, taken on more responsibility and squeezed in CPD whenever he can.
"Feedback from staff, volunteers, teachers and parents is that Lewis is our best deliverer and has a really great relationship and nature with the children and young people at our sessions."
Birmingham

BCFC Foundation
Ocean has shown a huge amount of development over her apprenticeship. Early on she flourished in front of young people but struggled to engage in a classroom or office setting – potentially one of the side-effects the Covid-19 lockdowns had a on a generation of young people. However, as the apprenticeship progressed she grew into herself and became a joy to work with, regardless of setting.
Ocean works on Primary Star, the Premier League's schools programme, to help teachers engage with their students better by using sport, to break down barriers. A short while into her apprenticeship Ocean had impressed one school so much that they asked for her services as a coach and support tutor full time! She also works on the Blues Fit Fans programme, supporting men and women to improve their lifestyle choices and be more active.
"She's engaging, wants to help, very supportive of the staff as well as her young changes – everyone she works with is keen to see her"
Birmingham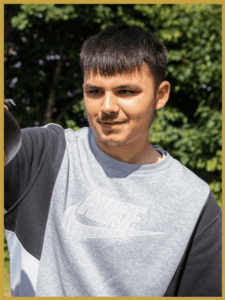 MAD
Zain works across a number of different programmes, including HAF, mentoring in secondary schools and delivering a youth-led youth club. He is also writing funding bids, creating mentoring plans and timetabling sessions.
School engagement is a particular focus for Zain and he has taken the lead in mentoring a large cohort of young people which he identified as having issues that could be resolved. He has taken a lot of initiative to help resolve friendship and behavioural issues within the school and invited them to a youth club to engage further. He has supported students dealing with incidents of racism, self-harm and drug abuse with compassion and empathy. He identified one pupil as potentially needing more support by studying the school's behaviour referral system. He has put a lot of time and effort into that young person – who had a lot going on in their home life – and has helped them better control their behaviour and become a more confident and outgoing person. He has also helped to develop the school's Equality & Diversity Group and given career pathway talks on apprenticeships.
The youth- led youth club is a project created by Zain and follow cohort members for 2019 youth ambassadors' program in Stockfield, Birmingham. It's core idea is that local and qualified young people (18-21) deliver sports and mentoring to 11-16 year-olds. As well as delivering on the sport sessions, Zain has arranged workshops, including art, first aid and guns-and-gangs.
The apprentice has provided opportunities for Zain to develop and he has taken them with both hands, growing as a coach, a leader and a person.
"Not only is he a model professional, I consider him a friend of mine. He has been an absolute pleasure to work with and whatever holds for him in the future is the least he deserves."